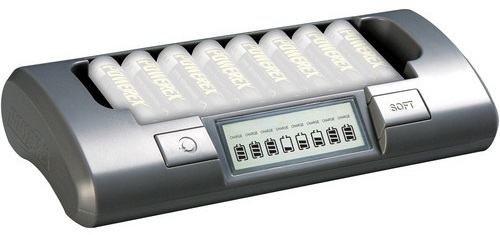 We are happy to share that our MH-C800S 8-Cell Smart Charger was recently included in Ezvid Wiki as the top 10 NiMH Chargers of 2018 ranking at #8. To view their Best NiMH Chargers video and full list go to https://wiki.ezvid.com/best-nimh-chargers.
Compiled with twenty-four hours of research, this video Wiki, newly published in their electronics category, is a broad-ranging and comprehensive look at NiMH charger options available in the United States. According to Ezvid Wiki, they were founded in 2011 and were the world's first video wiki, and is now among the top 3,000 websites in the United States. Their YouTube channel has over 265,000 subscribers, 156 million views since founding, and have informed over $200 million in purchasing decisions to date.
The Powerex MH-C800S 8-Cell Smart Charger charges up to 8 AA or AAA NiMH or NiCD batteries with 8 independent charging circuits. You can find more information on our website, http://www.mahaenergy.com/mh-c800s/.